Modern dentures can be an ideal solution to significant tooth loss. Without your teeth, even seemingly easy tasks such as speaking, eating, and breathing can change and even become a challenge. Baseline Dental is proud to offer our patients in Rialto dentures that are custom-made to match your natural looks and provide a lasting solution to tooth loss. With the right set, you can improve your quality of life even if you have lost all your teeth!
Dentures are a wearable solution to help patients who have lost multiple teeth, or even all of them. Unlike dental implants or bridges, dentures can be removed for convenient cleaning and don't require a procedure to get them. Instead, we can simply take impressions of your gums and then have our lab custom-make your set to look and feel just like your natural teeth. Patients can choose from either partial dentures or full dentures, depending on the amount of teeth they need to replace.
At Baseline Dental, we offer our patients four types of dentures along with implant-supported dentures.
All the dental treatments are carried out using latest equipment & technologies to ensure best results.
Suffering from Dental Pain?
Get Relief Today
Call for Same-Day Emergency
Dental Appointment
Top Rated Emergency Dentists
in Rialto, CA

Monday – Friday
Saturday
Sunday
: 9am – 6pm
: 8am – 1pm
: Closed
All the dental treatments are carried
out using latest equipment & technologies
to ensure best results.
Conventional Complete Dentures
Complete dentures are designed to replace all of the teeth in the upper and lower jaw. These are perhaps what most people picture when they think of dentures.
Immediate Complete Dentures
Immediate dentures are prepared and custom-made before your last group of teeth is extracted. We typically place them immediately after extractions so you don't have to wait around without teeth.
Overdentures are designed to correct only the gaps in the smile or replace a group of missing teeth. These are often secured with clasps or rests and are perfect for patients with some remaining teeth.
Partial dentures are similar to complete dentures in how they are made. The main difference is that they use one or more natural teeth for securing the denture, so a patient would need at least some teeth remaining to make use of them.
Implant-Supported Dentures
Implant-supported dentures are an increasingly popular choice that combine the strength of implants with the convenience of removable dentures. They work by first receiving a set of dental implants specially made for supporting dentures. Once you get your implants and they naturally fuse to your jawbone for support, you can then get a special set of dentures that attach to the implants. This increased support comes with several benefits, including:
Less wear on your gums
Increased comfort and support
Maintain convenience of removable dentures
Slide

Very nice dental office, my whole family enjoys the service. Friendly Staff.
Slide

"Great doctor! He really cares about his patients."
Slide

"Such a great dentist, I have been going to him for a little over 5 years. His staff is excellent; wonderful and great customer service."
Slide

"Excellent work by the doctor and his assistants."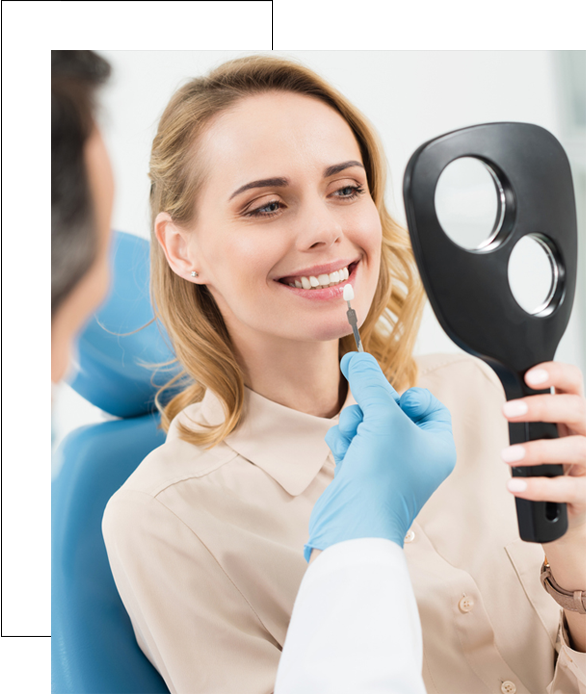 Are Dentures Right for Me?
Full dentures are the best choice for patients missing an entire row of teeth, and you can get them for your top row, bottom row, or both! If you still have some teeth, you might be a better match for a set of partial dentures. Depending on your jaw health and the number of teeth missing, you may also be able to try dental bridges. This option is also great for patients only missing a couple of teeth and who want something they don't have to take out each night. Dental implants with crowns are the longest-lasting and most popular option for patients with only a couple of missing teeth, and they are easy to care for.
During your appointment with our specialist, you can see if dentures are your ideal tooth replacement option. We can discuss all your options and find the best choice to suit your situation and goals, working closely with you to get your smile back to its brightest.
After You Get Your Dentures
Adjusting to life with dentures can be a significant change, especially if you have spent some time without teeth. But the team at Baseline Dental Care is with you for the long run. We provide you with complete information and handy tips for living with dentures, including proper care tips. Likewise, we are here to help if anything about your dentures doesn't quite feel right or if you need a new pair. As the mouth's structure can change over time, it is not uncommon for patients to need adjustments to their dentures or a new set. Whenever you have any questions or concerns about dentures or your oral health, our team is only a phone call away and ready to help.
Schedule Your Appointment Today
Life is to short to spend it without a bright smile. Call Baseline Dental today or use our online form to set up your appointment to see if dentures are right for you. We work closely with each patient to ensure they receive a tooth loss solution that results in a lifelong smile. Whether you need dentures, bridges, or implants, we are here to restore your smile and help you take back your quality of life. Contact us to get started and learn more about our top-quality dentures in Rialto today.